This year's theme for National Poetry Month is food and poetry. Come to the farm for a taste of both on Wednesday April 29.
Four delicious readers from all points of the culinary compass will converge at Hali – one of Victoria's most productive models of urban agriculture. Brian Brett, Rhona McAdam, D.C. Reid and Linda Rogers have diverse relationships with food from the land and sea and will entertain you with their mouth-watering poetry.
There will be books to buy, fresh organic produce and snacks available to purchase and nibble on, and an opportunity for people to have a look around this amazing farm, home to 7 organic farming businesses, a biodiversity (wetlands restoration) project and a nutritional consultancy. You can sample the farm's wares and consider subscribing to our weekly organic food box.
Tours at 6pm and readings start at 7pm.
Admission by donation, $3-$5: all money collected goes to programs that support the farm's mandate as a demonstration farm and model of biodiversity, providing mentorship for young farmers.
Gratitude to the League of Canadian Poets and the Canada Council for making this – and National Poetry Month – possible.
---
Farm Food Boxes 2015
Subscribe today! Each year since 2007 we've offered delicious, certified organic fruit and vegetable boxes to our community, and this year we're giving you a little bit more in every box! We offer Spring, Summer and Winter subscriptions, all providing local, seasonal and very fresh food, starting on May 20! For more details on the food boxes and how to sign up for our 2015 offerings, check out our Food Box page.
---
Where else to find our produce?
We're at Moss Street's winter market from 10-12 on Saturdays. You can also find us at the Downtown Public Market at the Hudson every Wednesday from 11-3 featuring the best and very affordable produce from the farms. Our Farm Stand is closed for the season – watch this page for news about when we'll reopen for our 2015 season (probably late May).
---
Work Parties
First Saturday of the month, except December – on the farming section and wetland (biodiversity project). Please register at the farm e-mail and ask to be put on the mailing list for the next work party. A great way to learn hands-on about our wetland restoration project, and become part of the Hali community! (The potluck lunches are fun too!)
---
---
Guided Farm tours of a certified organic Community Farm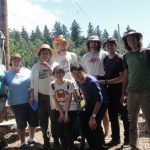 Guided by a Board member or Farmer. Please enquire at the farm or our email address.  Tours explore the Community Farm model, Wetland restoration, Growing Food throughout the year, student activities and building a healthy ecosystem. $8 per person. Group rate of 10 or more persons $50.
---
UVic Retirees Saturday Series
The UVic Retirees Association has been running a 4 part educational event for its members at the farm throughout March. Part of the association's Elder Academy, it featured a tour of the farm, plus talks on the basics of growing seeds, soil development, vermiculture, and composting.
---
Hali Seedy Saturday
Thanks to all our friends and followers – all 300 of you! – who came to the farm on January 10 to buy seeds, sample the produce, rub shoulders with neighbours, hear the speaker, support local seed producers and tour the farms. We couldn't do it without you and we look forward to seeing you at the markets and farmstand this season!
---
Open House Thanks and Good Wishes
Warmest thanks to everyone who came by on Dec. 6 to see how Hali has progressed over the year. Sadly we said goodbye and honoured our inspirational farmers Ray and Heather of H&R Veggies. We've all learned so much from them during their 8 years at the farm and are thankful that they will continue their mentorship in many ways. In November we acknowledged departing farmers Goldenrose of Barefoot Organics and Nate of New Mountain Farm for their valuable contributions in their time at Hali. We will miss them and wish them many blessings on new journeys.
---
Hali on Film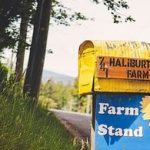 Moonrise Photography took some utterly lovely photos of the farms at Haliburton, and the delicacies you will find in our food boxes. Check them out by clicking on this mailbox to the right:
Hali also starred in the Foodie Friday feature on CTV News recently! Check out CTV's archives on Foodie Friday – edible flowers.
---
Congratulations! It's a…long-toed salamander!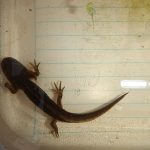 Organic farming works best within healthy ecosystems, and those can sometimes be found, or made, in urban settings like Hali's. Our wetlands restoration project has been one of Hali's biggest projects, led by amphibian specialist Purnima Govindarajulu. After many years of work and waiting, we've finally had proof that it's all been worthwhile – Purnima is proud to announce the arrival of long-toed salamander larvae, born and bred in the pond of our very own wetlands. If you haven't followed the progress made in this one-of-a-kind urban biodiversity project – turning a weedy corner of the property into a thriving wetlands – check out our video.
---
Our Cooler makes a difference
Our new walk-in cooler has greatly helped us manage our produce.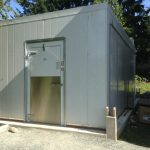 Subscribers to the food box program have appreciated its chillability (some Summer days more than others!). For funding and building it, we owe most grateful thanks to the Sidney Rotary Club, plus our own Board and Farmer support. Most of all we thank Doug Kleckner for building a beautiful structure and Cosmo Pessoa for his outstanding efforts in seeking fundraising for the cooler. We are actively seeking funding for the roof which protects it from those welcome rains.
---
Haliburton Community Organic Farm is 14 years old.
Sincere  Appreciation and Gratitude to all:  Our District of Saanich, our Farmers,  Neighbours, Board, Volunteers and Community, and VanCity


who support this community organic farm.
Follow us on Facebook  and Twitter for news and updated photos of the farm.