We've had a lot of activity on the farm this week.
On Sunday, more than 100 people crossed our threshold to learn about native plants and pick up plant starts, seeds and native plant hanging baskets as part of the Habitat Acquisition Trust native plant gardens tour.
On Tuesday we warmly welcome our 2016 farming interns Andrea Simmonds, Chris Grange, Rachelle Bramly and Lindsay Kathrens, and celebrated their arrival with a farm tour. It was attended by some of the board members as well as representatives of Sidney Rotary Club, who have been great supporters of the farm, most recently by raising funds to allow us to build a walk-in cooler.
We were fortunate to have both James and Kristen Miskelly on hand to give us a thorough introduction to their Saanich Native Plants operation and biodiversity projects. We visited the forested area where they monitor salamander populations beneath wooden boards and burlap sacking, and had a look at the native vegetation in the wetlands restoration area.
Farmer Colleen Popyk talked about her work on Darn Tootin' Farm, Farmers Noemie Messier-Guimont and Mike Nyberg of New Mountain Farm invited us to check out their sweet carrots, and Farmer Elmarie Roberts discussed a hugelkultur bed that had been made from a felled hazelnut tree at Sunbird Farm.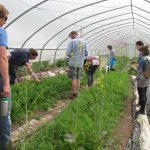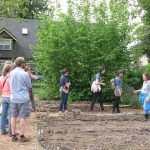 At Northstar Organics, cucumber-picking and lettuce-washing and edible-flower-harvesting were in full swing.
Northstar's Farmer Shawn Dirksen explained his use of solar panels to power greenhouse ventilation and his use of custom-made potting mix for making soil blocks for plant starts (based on Eliot Coleman's recipe). We admired his greenhouses and kale fields, and passed a handsome crop of garlic growing at Littlest Acre before wrapping up back at the farm stand.