Board members Naomi Ellis and Rhona McAdam represented Hali at a Wellness Expo for the staff of the provincial ministries of Environment, Natural Resources and Aboriginal Relations on Wednesday. We joined half a dozen other groups who were promoting health and wellness services in the local area.
We brought along a sample food basket to show off the gorgeous certified organic produce we feature in our weekly food boxes, and had a lot of interest in the draw (congratulations to the winner, Sheila Richardson!) We used the opportunity to invite people to sign up for our summer food box program, which is about half-subscribed now, a month from the start date of June 29.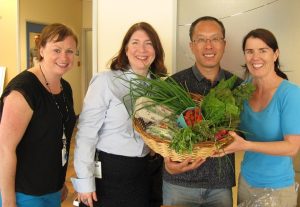 We enjoyed chatting with the steady stream of people who passed through and explained some of the unique features of Haliburton – its role as an incubator farm, allowing young farmers to earn the business of organic farming, its educational farm zoning and activities, and its diverse businesses – market gardens, native plants, organic plant starts and holistic nutrition.
Thanks and kudos to the organizers of a busy and successful day – Shawna Lyttle, Donna Longley, Gary Wong and Grace Kelly.