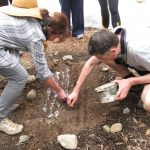 For several years, Haliburton Farm has been the venue for Gaia College's popular Growing Food course. The class runs right through the growing season, March through September, and covers everything you need to know in order to grow food, whether on your balcony, on the allotment, in your garden or acreage.
Methods are organic and sustainable, and will save you time and money as you learn hands-on with plenty of on-site demonstrations and examples. Learn about building healthy soil, using water wisely, techniques for propagation and cultivation, feeding plants and pollinators, managing pests, seed-saving, preserving your harvest, and managing your garden post-harvest.
The program is timed for busy people: it runs March 28 to September 5, 2018; Wednesdays 6:30-9:30pm and Saturdays 1:00-4:00pm.
Interested? Course registration is now open.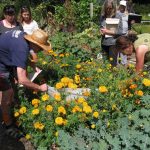 Can't decide? Come to a free information session at the farm, 741 Haliburton Road, on Wednesday March 14, 2018 at 6.30pm. Please note: bursaries are available – more details at the information session