Hard to believe after all the long months of planning that we have our first farm school session underway!
On Day one, our students were given a welcome by Tiffany Joseph, of the Tsawout First Nation, and then introduced to the farm with a presentation on farming for biodiversity on South Vancouver Island by Kristen Miskelly of Saanich Native Plants, before being taken on a focused tour of the farm.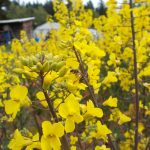 There was a local and seasonal lunch – spring green frittatta, Haliburton leafy green salad and Haliburton lavender cookies – by Rhona McAdam who followed the meal with a discussion on food systems and sustainability. And then it was out into the farm to start a planting project with organic farming instructor Elmarie Roberts.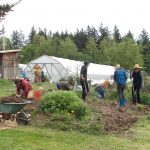 The morning of Day 2 covered soil health & human nutrition, composting systems and soil testing, and a lunch of asparagus, sorrel & spring greens soup; organic sourdough buns from Royal Bay Bakery, white bean & almond dip; and a strawberry-rhubarb crisp. The afternoon was spent in the glorious sunshine, learning about farming for biodiversity and ecological restoration for farmers.