It was g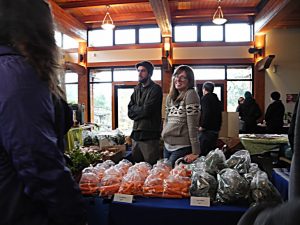 reat to see several hundred of you back again on the weekend!
We had another lively, friendly and educational Saanich Seedy Saturday at the Gardens at HCP last Saturday. Visitors crowded in to meet the vendors: everything from… Fairtrade tea to organic carrots to EcoFarming education to gardening books to nutritional education to pollinator partners to  multi-hued quinoa seed to Jerusalem artichokes to succulents to microbial mixes to curly kale to cookbooks to cookies to gardening advice to fly dung …was on offer from our local and pesticide-free vendors.
Most of our vendors were from the CRD, with others coming in from up-Island and the Gulf Islands, and most had been at our previous Seedy Saturdays. Haliburton Farm was well represented by Kristen & James Miskelly of Saanich Native Plants; Elmarie Roberts of Sunbird Farm; Ann Eastman for the Haliburton EcoFarm School (watch for news of the Spring session which runs May 4-8); New Mountain Farmer Mike Nyberg and Fierce Love Farmer Erin Bett; and the annual Hali Cookie Jar (proceeds to the farm's Bursary Fund) by Rhona McAdam.

In the speakers' corner, mushroom lovers were treated to a fascinating talk from chef/forager Bill Jones, who demonstrated why his foraging events and dinners at Deerholme Farm are so popular. He answered questions about mushroom safety, preparation and cultural aspects, and offered three of his dozen cookboooks for sale: the Deerholme Mushroom Book, the Deerholme Foraging Book, and his latest, the Deerholme Vegetable Book. Later on, Dan Jason spoke to an enthusiastic room of grain and seed-growers about his new book, Awesome Ancient Grains & Seeds. He has a strong following from all his work in seed saving and seed security, as well as his Salt Spring Seeds business.
So… thanks so much for coming along and supporting local seed saving and growing; if you didn't, hey we missed you! Hope to see you next year!